Most Recent Episode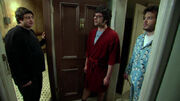 Evicted
Unable to pay off their back rent, Bret and Jemaine move in with Mel and Doug; Murray looks to cash in on a stage play about the Conchords' travails.

Songs Featured
---
• Petrov, Yelyena, & Me - This song features Bret with Mel and Doug playing Yelyena and Petrov, respectively. In the song, all three are stranded on a boat and are suffering of starvation, until Petrov and Yelyena secretly plan to eat Bret gradually overnight, starting with his leg, then his arm. Bret sees them eating on bones and questions them on where his legs and arms have gone, and Petrov and Yelyena try to cover up their actions by saying that they're eating the fish in the sea. Eventually, Bret grows tired over being eaten and decides to digest arsenic to poison his meat, despite being sick from doing so. In the end, Petrov and Yelyena die and Bret is left alive with just his head.
Featured Song
Albi the Racist Dragon
First Heard in: Drive By
Albi The Racist Dragon sung by Jemaine, concerns the eponymous character's persecution by an angry mob and subsequent redemption, through the companionship of one of his victims, a "badly burned Albanian boy." It is mostly spoken word set to an animated sequence in a children's TV style.
Community
| | |
| --- | --- |
| About the Wiki | Writing Articles |