Most Recent Episode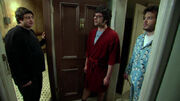 Evicted
Unable to pay off their back rent, Bret and Jemaine move in with Mel and Doug; Murray looks to cash in on a stage play about the Conchords' travails.

Songs Featured
---
• Petrov, Yelyena, & Me - This song features Bret with Mel and Doug playing Yelyena and Petrov, respectively. In the song, all three are stranded on a boat and are suffering of starvation, until Petrov and Yelyena secretly plan to eat Bret gradually overnight, starting with his leg, then his arm. Bret sees them eating on bones and questions them on where his legs and arms have gone, and Petrov and Yelyena try to cover up their actions by saying that they're eating the fish in the sea. Eventually, Bret grows tired over being eaten and decides to digest arsenic to poison his meat, despite being sick from doing so. In the end, Petrov and Yelyena die and Bret is left alive with just his head.
Featured Song
The Most Beautiful Girl (in the Room)
First Heard in: Sally
Sung by Bret and Jemaine, the song chronicles Jemaine's attraction to Sally at Dave's party. During the song, Jemaine confronts Dave about whether or not he is going to make a move, to which Dave replies he wasn't, though Jemaine has his doubts. The compliments Jemaine provides Sally with are comically unflattering, such as "a waitress", an "air hostess in the 60's", being beautiful like a "tree", and resembling a high class prostitute. It does, however, prove to have some effect, as Sally agrees to share a kebab with Jemaine, and then accompanies him back to the apartment, where they share a kiss, which is ultimately interrupted by Bret.
Community
| | |
| --- | --- |
| About the Wiki | Writing Articles |
Ad blocker interference detected!
Wikia is a free-to-use site that makes money from advertising. We have a modified experience for viewers using ad blockers

Wikia is not accessible if you've made further modifications. Remove the custom ad blocker rule(s) and the page will load as expected.